How to Spend Time With God Throughout The Day (3 Tips)
How do you spend time with God throughout the day? After all, life gets crazy busy. We often have so much going on – work, school, family, friends, relationships, etc.
In short, it's easy to get overwhelmed with 1001 things vying for your attention.
In light of this, here are 3 ways to help you spend time with God, keeping the Lord as your top priority even amid busy seasons!
1. Use your free time wisely
Be wise with how you use your free time throughout the day. 
It doesn't need to always be a long stretch of time. Rather, it's totally doable to say a quick prayer or read a short Bible passage for 5-10 minutes in between your tasks.
Putting in the effort to spend time with God - no matter how busy you are - is far more fruitful than, say, scrolling endlessly through social media.◡̈
In short, protect your moments with our Father by using your free time effectively. Save yourself from distraction by checking in with God throughout your day.
Walk in wisdom toward outsiders, making the best use of the time. - Colossians 4:5
2. Listen to God's Word with an audio Bible
Thanks to digital tech and apps, it's never been easier to access the Bible, right at your fingertips!
Thus, when it comes to how to spend time with God, you aren't limited to just physically reading the Bible anymore. There are now plenty of audio versions of God's Word available, in all major translations.
You can now reflect on God's Word as you jog, have lunch, travel, etc. So, do your research, download an audio version you like, and spend time with God throughout your day. Digesting the Bible has never been easier!
All Scripture is breathed out by God and profitable for teaching, for reproof, for correction, and for training in righteousness. - 2 Timothy 3:16
3. Set the right intention to spend time with God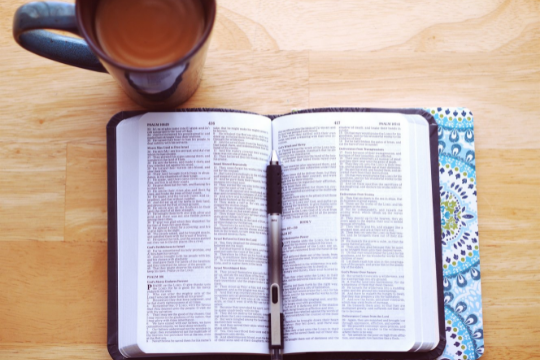 Intentionality is key to everything. On one hand, you can choose to just 'go through the motion' as you spend time with God, doing it for the mere sake of doing it.
However, this is unlikely to yield much spiritual fruit nor clarity.
Instead, set your heart to the right intention. Remind yourself why spending time with God matters. Pray and dive into the Word with the desire to know Him better - because He loves you like no other! Seek to deepen your relationship with our Father, trusting Him more and more along the way.
But seek first the kingdom of God and his righteousness, and all these things will be added to you. - Matthew 6:33
In conclusion...
So how will you spend time with God throughout the day? By exercising these 3 tips, we're confident you'll find, protect, and invest in meaningful moments with our loving Lord. Have faith that, no matter how hectic life gets, your journey with God is more than worth the while.
God bless you!
Leave a comment